Gosport 2005
The A World Championship 2005 held at Walpole Lakes, Gosport, Hampshire from 9th to 14th July was emphatically won by Graham Bantock sailing his new "Sword" design. The A class is an ISAF-RSD internationally-recognised class of radio sailing boat, using a metre rating formula similar to the 5.5 Metre, where the rating must be less than or equal to 1000 rather than 5500. The resulting boat is around 2 m LOA, total height on shore around 2.7 m, and displacement around 14 to 20 kg.
Thirty-six sailors contested the event, with owners from AUS and NED joining the mainly GBR fleet. Interest centred on four designs: the long running, popular and successful series of "Sweet" variations by Peter Wiles (GBR) on the original design by Roger Stollery (GBR), the new designs from internationally-renowned Graham Bantock ("Sword", GBR) and David Hollom ("Sea Biscuit", GBR), and the relatively new design by John Holmes from AUS, "Venom".
Derek Priestley (GBR), reigning A World Champion from the last event held in 1993 in Denmark, had high hopes for his Hollom design with its trim-tabbed low area fin and delta-planform anhedral bulb. Graham Bantock and Ken Binks (GBR) sailed "Sword", the latest SAILSetc design sporting sharp tumblehome aft and a very high length-to-diameter bulb. Lisa Blackwood (AUS) and John Cole-Cook (AUS) sailed the relatively unknown "Venom", a super-lightweight design from Tasmania with a wider transom, very soft bilges and no bustle aft. Peter Wiles, Derek Morland (GBR), and Peter Fothergill (GBR) sailed the well-developed "Sweet", a lighter design with an excellent reputation. Both Bantock and Hollom's designs used a bow chin reminiscent of Hollom's 12 Metre Crusader 2 used in Perth 1987.
The wind direction was generally unfavourable for much of the six days of the event, leading Principal Race Officer David Coode to set courses which might require one tack on the windward beat and otherwise comprised straightforward reaching and running. The emphasis during the event was very much on boat speed rather than tactics or manoeuvrability, and the only real challenge was deciding how far down the heavily-biased line to start before entanglement with other like-minded sailors became inevitable. Four International Judges acted as umpires, with the result that sailing was generally good-tempered and very few off-water protests were heard. The weather was exceptional, cloudless skies and a breeze which never required second suit. Thirty races were run, each comprising four heats, with four scores discarded. The last three afternoons benefited from an 8-10 knot sea breeze from a better direction which gave good windward/leeward courses and an opportunity to indulge in more tactical sailing.
The final winner was Graham Bantock, who recovered from a mid-event, weed induced, wobble in "B" heat to post a remarkable and impressive score of 36 points. Ken Binks edged into second place with a score of 92 points and the lowest discards total of the fleet, making him the most consistent sailor. Peter Wiles overcame some early disappointment to finish third on 102 points, ahead of Derek Priestley on 109. The AUS contingent showed their "Venom" design to be entirely competitive, Lisa Blackwood finishing fifth on 124 points with John Cole-Cook on 155. Each of the top sailors from 2nd to 6th had at least one "A" heat win, and it was clear that, on another day, any one of them could have finished second, though it was equally clear that Graham's first place was unassailable. Derek Morland and Peter Fothergill took up 7th and 8th respectively after an event-long tussle, both on 219 points, with the nod going to Derek on count-back.
(The report above was published in Marine Modelling International, October 2005, pages 48-49, and is reprinted with permission. The MMI article has some excellent pictures courtesy of John Male and Paul Midgley, and the full results sheet.)
I started the event on day 2 and in D fleet for Race 4, having missed day 1 and the first 3 races. This was due to attending an academic conference in Taiwan. I was therefore very pleased to end the event in 9th place on 221 points, sailing Vernon Appleton's "Frigate" which he'd kindly chartered to me.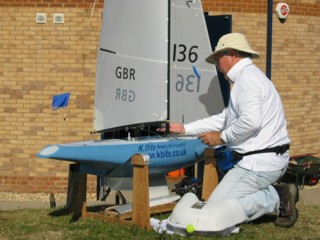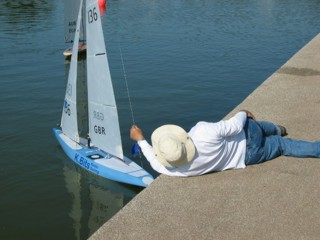 2005-12-18