West Lancashire 2004
I sailed my "Bakers Dozen" in the 2004 RA UK Nationals, and fortunately the wind gave her a competitive advantage, allowing her to use her considerable overhangs.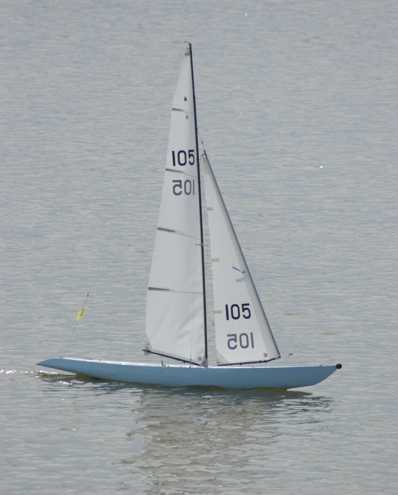 105 "Bakers Bozen" design
Graham Bantock was sailing Vernon Appleton's "Frigate", newly fitted with the latest SAILSetc 16 kg ballast.

"Frigate" ballast
David Hollom was sailing "Nijinski", the actual towing tank model for an America's Cup design from the 1980's and well-known in RA circles in the UK. With good reason -- she won most of her heats and was otherwise leading before several breakdowns finally put her out of the event.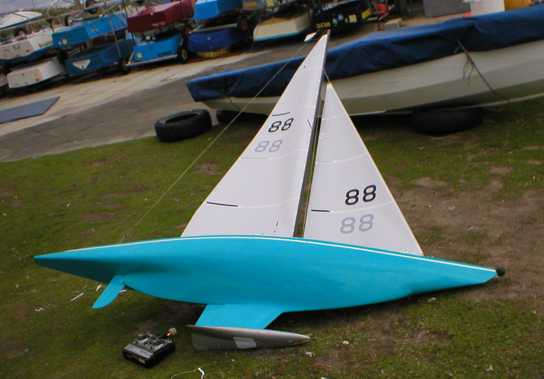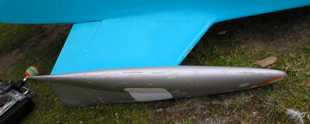 "Nijinski"
Conditions were quite punishing for many boats, particularly on the second day. The entry of around 34 boats and three heats dwindled down to two heats at the end of the first day, and then was down to one heat and around 12 boats for most of the second day. The wind was gusting Force 5, around 11 or 12 m/sec, and most of the boats were running in third suit on the second day, while the first day saw winds around 8 m/sec and second suit.
Colin Smith sailed his very interesting boat, hard-chined from amidships, but now with a conventional torpedo bulb and an excellent 80% ballast ratio, into first place.
Last year's winner, Peter Wiles, ran into a little gear trouble mid-event, and needed the 19th and final race to give him the three discards necessary to elevate him into second place, jumping over me at the last.
I finished in third place. Graham Bantock was sailing neck and neck with Colin Smith for most of the event, but was forced to retire just before the end of the event with gear failure, and earned 4th place. Colin Cooper was in 5th.
2005-12-18