Woodspring 2003
I've acquired the RA boat that Graham Bantock sailed to win the UK RA Nationals in 1983. She is a "Bakers Dozen" design by Roger Stollery and was moulded in Kevlar by Graham. Her lines are reminiscent of a vane A, and 20 years later she took me to 4th place in the UK RA Nationals of 2003. She needs a breeze to use her ample waterline length to best advantage, but the event had mainly light winds. Her ballast is in the style of the times, a "shoe" shape.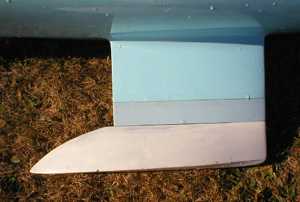 105 Lester Gilbert
The comfortable winner was Peter Wiles sailing his very successful "Sweet" design. Her bulb is the now-familiar beaver-tail design. In second place was Robbie Nevitt and third was Colin Cooper, Robbie sailing an "Argo" (thanks Neil!) and Colin a version of Peter's "Sweet" design.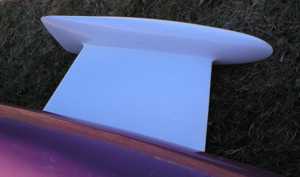 05 Peter Wiles
Colin Smith sailed a very interesting boat with a remarkable winged bulb. She showed considerable promise and lay in 3rd place for much of the event. The hull develops a hard chine from amidships.


42 Colin Smith
Vernon Appleton sailed his Graham Bantock designed "Frigate" into 5th place. There was no doubt that this is a fast boat. I didn't take a photo of her ballast, but this is well illustrated in the SAILSetc catalogue and on their Web site.


36 Vernon Appleton
Clive Tappenden sailed a unique design with a "skiff-like" transom, its width nearly equal to maximum beam. She needs a good blow to show her best, but is astonishingly agile at all times.


93 Clive Tappenden
I found the event rather bad-tempered, and am sorry to say that I was at fault more than once. The RA does not sail like an IOM, and trying to throw such a boat around simply slows you down, slows your immediate opponent down, and loses you both places. The class also needs a course of ample dimensions, but the wind direction did not allow this.
2005-12-18