West Kirby, August 2006
While Saturday started in No.1 rig, we soon changed down to No.2. Sunday started in No.2, and then we were soon down to No.3. Monday started and ended with No.3. So, it was windy. And it was wet from time to time, though clearing at the end of each day to allow a little sunshine to leak through. But the wind was wonderful. As Dave Potter remarked, it came on an uninterrupted fetch from Ireland, and the lake is the perfect place for systematic tuning and adjusting. It did have subtle shifts. If you could master them, you gained promotion. If you got it wrong, which I usually did, you thought you were doing just fine until you arrived at the windward mark with most of the pack rounded and gone.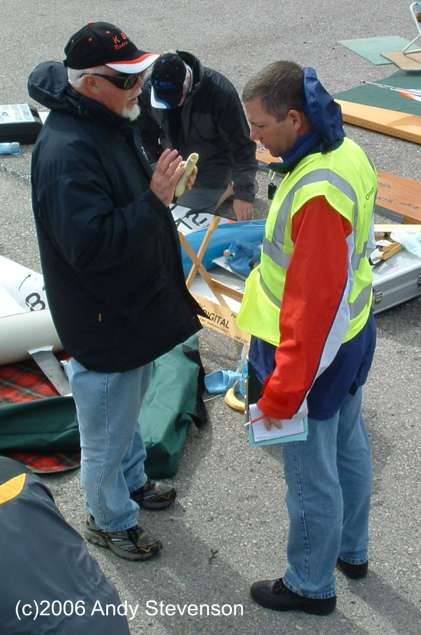 Ken Binks threatening Race Officer Chris Elliott with a deadly banana... (just kidding!)
Around sixty initial entrants allowed four heats, though by mid-Monday we were down to three heats. We had most welcome entrants from AUS, CRO, ESP, ITA, NZL, and RSA. Eighteen races were run, at a pace which kept us busy. The course was usually windward-leeward, but with no leeward gate, and a windward separator mark that was half-way to being a wing mark sometimes. Line bias almost always good, decent length start line, good long beats ... excellent! No significant protests on Saturday, a couple on Sunday, but Monday saw the last race abandoned due to a chewy one. The race management team put their all into the event, and in spite of the usual harassment from agitated and aggravated competitors, delivered good racing. Many thanks to Chris Elliott, Martin Roberts, and their team!
The top 10 positions after 3 discards were:
| | | | |
| --- | --- | --- | --- |
| | Skipper | Points | Design |
| 1 | David Potter | 28 | Lintel |
| 2 | Zvonko Jelacic (CRO) | 63 | Topiko |
| 3 | Graham Bantock | 64 | Topiko |
| 4 | Ken Binks | 69 | Isis |
| 5 | John Tushingham | 90 | LIntel |
| 6 | Trevor Binks | 100 | Isis |
| 7 | Brad Gibson (AUS) | 105 | Disco |
| 8 | Graham Elliott | 133 | Widget |
| 9 | Franco Borin (ITA) | 146 | Extreme |
| 10 | Peter Stollery | 157 | Tonic (modified) |
Dave Potter ran away with the event, taking first place in seven of the races, and second, third or fourth in another six races. On Saturday he usually finished an astonishing 50 or 80 boat lengths ahead of the rest of the pack squabbling for the minor placings. He did admit to a little practice at the lake beforehand, but the sister boat in the hands of John Tushingham finished 5th overall, showing that the very interesting design of Dave Creed is very competitive.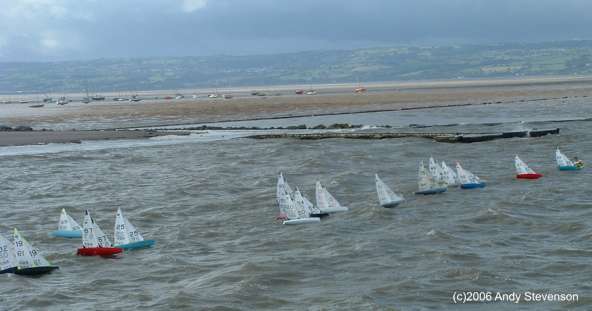 The start of an A heat -- one of the less wild ones
Zvonko Jelacic sailed smoothly, consistently, and always very unobtrusively (you know what I mean here!) to overcome very strong challenges from Graham Bantock and Ken Binks. With Dave Potter, he was the only sailor not to have a trip down to B heat at some stage of the event. The points tell you how close it was for the second step of the podium. Peter Stollery missed six races and most of Sunday due to a, ah, prior engagement, but still finished 10th. What might have been if he hadn't taken a DNC for six races?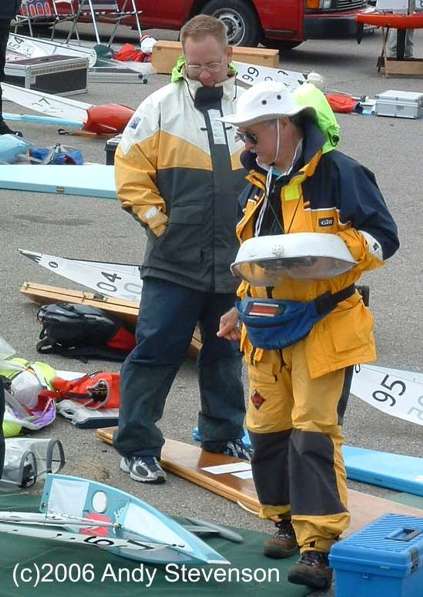 Vernon and I musing on our 28th and 33rd finishing places respectively...
2006-08-30