Poole, August 2003
I arrived on Friday to register, be measured, and do a little practice sailing. Managed two out of three, but found there was no event measuring (and there was none during the event either). Saturday, Sunday, and Monday were warm to hot days, some high cloud and always bright, sometimes sunny. The wind, however, proved awkward, hardly ever rising above middle of no.1 rig and sometimes barely moving, but varying hugely in direction. Each day saw changes between 90 and 180 degrees, and made it difficult for the race committee to set good start lines. Thankfully, the dreaded "Poole chop" did not materialise. We merely had to contend with extraordinary little wind holes, only two or three metres across and quite invisible while sailing, that could see boats to either side sail on by and drop you four or eight places. There were also swirls which made a great impression on the water surface but provided absolutely no drive whatsoever, most memorably right on the finish line for much of day 2, such that a number of boats had to finish by sailing out wide and reaching back towards the line to get enough momentum to drift past a finishing mark and then hook up to cross the line correctly.
Seventy-three entrants, starting with five heats and then going down to four mid-way through day 3, sailed eleven races. The final points after two discards were:
| | | | |
| --- | --- | --- | --- |
| | Skipper | Points | Design |
| 1 | Graham Bantock | 27 | Italiko |
| 2 | Trevor Bamforth | 35 | Stealth |
| 3 | Ken Binks | 36 | Isis |
| 4 | Peter Stollery | 42 | Gadget |
| 5 | Trevor Binks | 46 | Isis |
| 6 | Chris Harris | 46 | Triple Crown |
| 7 | Martin Roberts | 57 | Gadget |
| 8 | David Potter | 57 | Modified Widget |
| 9 | Andrea Roberts | 63 | Gadget |
| 10 | Mark Dennis | 69 | Italiko |
The event revealed a close-fought battle for top honours, all positions only finalised after the last race, though by the end of day 2 it was reasonably clear that Bantock could feel the trophy within his grasp.
The top boats were narrow to medium beam, and the conditions suited them. The wider beam TS2s were not well represented, and those who sailed wider-beam boats were continually frustrated by the relative lack of wind. The "Isis" design has clearly arrived on the scene in the very capable hands of the Binks brothers.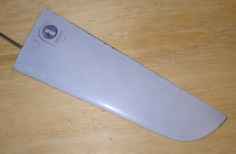 I finished in 30th place after some ups and some downs, mainly wrestling in "C" and "B" heat with the wanna-do-betters. I was able to tune my Italiko well, resulting in a fast boat that regularly pulled me out of the demotion zone heat after heat. It was the skipper that let the boat down, throwing away promotion opportunities heat after heat by, for example, not sailing around the wing mark on the first triangle (twice!), holding the event up for an hour with a protest hearing that resulted in being DSQ'd (will I never learn!?!), and similar stupidities.
I ran with an experimental high aspect rudder from SAILSetc, wanting something with a little less drag than the standard lower aspect ratio rudder when using weather helm. Curiously, I found the boat faster with this rudder when using neutral helm. Not quite what I expected, but perfectly welcome!
Update:
I have also found that another higher-aspect ratio design seemed to give a little more drag when asked to work with some weather helm than the SAILSetc prototype, probably because the prototype had a much more rounded nose profile.
Graham Bantock has since mentioned to me that
I have tested deeper and narrower rudders from time to time before and have always found them slower and especially so in light airs. This is exactly what theory predicts so no surprises there. You have reported some good results, and a number of boats at the worlds used them to good effect. The real benefit of deeper rudders, as I see it, is that in waves, and especially following waves, there is more material doing a good job in slower moving water lower down. Shallow rudders can lose 'grip' if a lot of the water they are moving in is moving the same way. Simple really, but the downside is the extra drag at slow speeds and in flat water.
2005-12-18