Fleetwood, August 2002
The usual relatively relaxed Fleetwood approach greeted us the evening before the racing weekend -- no event measuring, and none during the event either. Apart from some rain at the start of day, the remainder of the racing took place under patchy cloud and mild to warm temperatures. The wind on day 1 was remarkably even, blowing down the length of the lake. It gave excellent conditions for fine-tuning. During the day, though, it rose and dropped through the decision point - do we chance "A" rig and hang tough if it rises during our heat, or do we put on "B" rig and hope it doesn't drop and kill us? Racing was good, the courses required thought and the exploitation of tactical opportunities. We probably had the best racing of the event. Day 2 saw the wind back 180 degrees from morning to late afternoon, with a very quiet period mid-day as the sea breeze fought the gradient wind. This made it very difficult to set satisfactory courses, and in particular there was very little in the way of beats. One or two tacks saw you arrive at the windward mark, and thereafter it was reaching or running. Disappointing. Day 3 was pretty much a repeat of day 2 as the sea breeze fought the gradient wind with the two about equal during mid-day and a consequential period of very light conditions and wildly varying wind direction.
Seventy-one entrants, starting with five heats and then going down to four mid-way through day 2, sailed eleven races. The final points after two discards were:
| | | | |
| --- | --- | --- | --- |
| | Skipper | Points | Design |
| 1 | Martin Roberts | 27 | Gadget |
| 2 | Graham Bantock | 30 | Italiko |
| 3 | Trevor Bamforth | 45 | Stealth |
| 4 | David Potter | 48 | (see below) |
| 5 | Peter Stollery | 49 | Gadget |
| 6 | Chris Harris | 52 | Ericca |
The end result revealed a close-fought battle for top honours, with the result going to Martin Roberts by 3 points over Graham Bantock. There was an equally closely-fought battle for the minor placings, these final positions determined by the outcome of the very last race. Nail-biting stuff.
Novice Race Officer Jeff Hill ran a well-controlled and well-balanced event. In particular, I was pleased that he did his best to provide starting lines which were reasonably biased, even if not quite long enough for the 20 boats in a typical heat.
The top boats were narrow to medium beam. The wider beam TS2s were well represented, but were handicapped by the light winds in the middle of days 2 and 3. David Potter was sailing a David Creed design of extraordinary looks. I remain convinced that his fourth place is a testament to his sailing prowess and is not an indicator of the imminent arrival of blunt tubes into the IOM scene!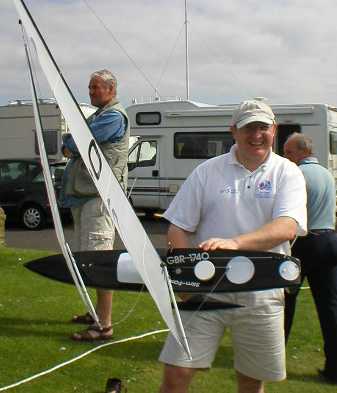 Maximum draft, minimum beam, blunt ends... extraordinary!
Barry Chisham had an unhappy event, radio gear failure taking him out of the event, but I was struck by his "Isis" design which seemed to be the most competitive boat he has designed. I sailed against a number of "Isis" designs in Falmouth earlier in the month, and found them equal to my Italiko.


Barry's "Isis" -- competitive!
Trevor Bamforth's "Stealth" is growing in popularity, and it too is a very competitive boat. Trevor crept into third place overall with very little fuss.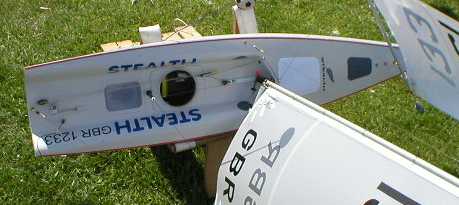 Trevor's "Stealth" -- very competitive!
An honourable mention should go to Jeff Byerley's "Cockatoo" design. Although only one example was sailing, when I was sailing against it, it had the better of me. It seems that the crop of current competitive IOM designs has never been better or offered a wider choice.
I finished in 27th place after some ups and some downs, mainly wrestling in "B" heat with the aspirant "A" heat runners. I was able to tune and sail my Italiko well in the light winds, getting into "A" heat on both days during the mid-day lull, but when the wind came up I was unable to find the right tune and balance and fell out into "B" heat again and again.
2005-12-18