This is taken from a situation which came up on the Windpower discussion forum. Thanks to Michael Bacci for kicking it off, the comments from Bill Mullica, Scott Vernon, and Will Gorgen, and the contributions of the other participants.
Two boats are well below the layline, heading for the windward mark. Who has what rights?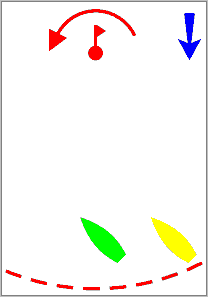 | | |
| --- | --- |
| The boat on starboard is: | |
| The two boats are: | |
| During the sequence, the leeward boat is: | |
Both boats are in the zone, and we may assume that they entered the zone in the same relative positions. These are the tricky questions. Before clicking on a letter to see what we think, decide for yourself if you think the statements are true or false...
| | |
| --- | --- |
| | RRS 18 applies, because the boats are about to pass or round the mark. |
| | RRS 18 applies, because the boats are in the zone. |
| | Green has right of way, and is obliged only to give Yellow room. Yellow is the give-way boat, and is only entitled to room. |
| | Yellow is the "inside" boat, Green is the "outside" boat. |
| | Green can luff up to get Yellow to tack. |
OK. Let's have a look at the next page to see what might happen if and when Green uses her right of way.
2018-06-23