My 'A' Class SWORD has stimulated me to return to 'adjustable' spreaders. Here is version 24. The wider mast with a wider base on the 'A' allows a try at an 'obvious' solution of the sort seen on full-size. The carrier is milled from Delrin, while the spreaders and the threaded body of the adjustment started life as 5 mm aluminium knitting needles. The eyebolt is a standard 3 mm x 20 mm SAILSetc item. The eye has been tapped to accept a M2 machine screw.


Spreader drawing
To make adjustments, unscrew the eye from the holder on the spreader, give it a turn in or out, and re-insert. The next version won't need this; I only need to figure out how to allow the body to turn without detaching it...
As before, the shrouds are clamped to the end of each spreader arm. A shallow groove is milled so that the shroud, when clamped by the machine screw, doesn't get excessively compressed.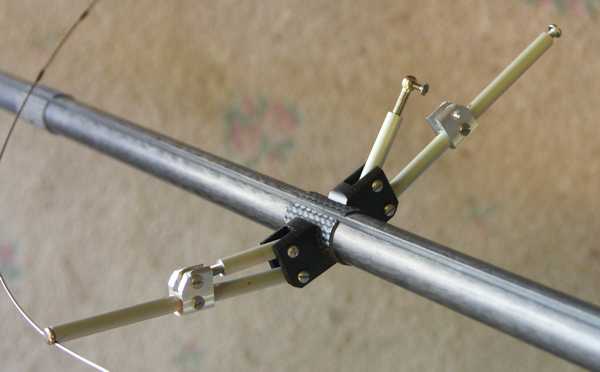 Spreader on mast
The "next version" is illustrated here, where a pair of proper bottlescrews are used for the length adjustment -- no un-screwing and re-screwing. They work well! (Render created with Autodesk's "Inventor" CAD software. What a learning curve!)


Spreaders with bottlescrew adjustment
2007-09-04