USA IOM Nationals, 2004
The official event report was at http://nandjct.com/mrrcs/newspage2.htm, but it now seems to be broken.
We arrived a few days earlier, and took in a tour of Mystic Seaport. Very interesting, very well done theme park of around 40 buildings full of (working) exhibits, and perhaps 10 yachts and boats to walk on, in, and around. Sitting under the "sea dogs" sign was an unavoidable chore.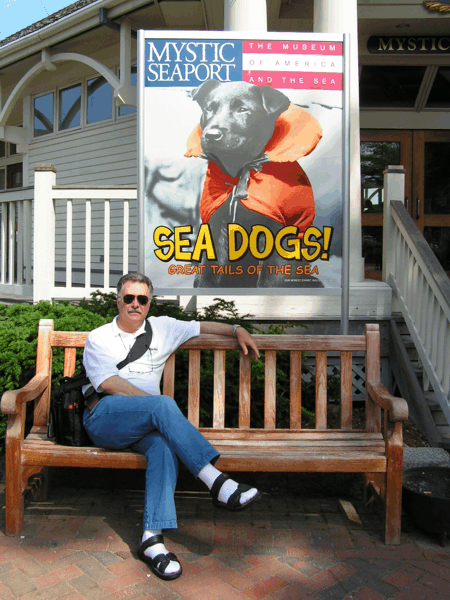 The first day of the event dawned somewhat misty, and not everyone had arrived when this shot was taken of the land-facing side of the Coast Guard Academy's main sailing facility. It illustrates where most of the IOMs were laid out, where the rescue and course-setting launch was moored, and in the background the launching platform.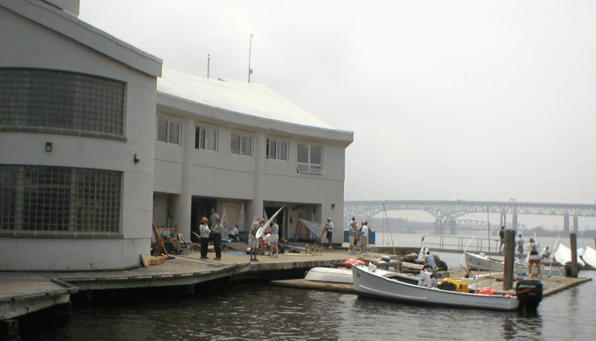 Bruce Anderson very kindly lent me his green TS2, #118, and I am in close company here with Rob Davis, #32. Such close company that I believe I touched the mark, not for the first or for the last time in the event...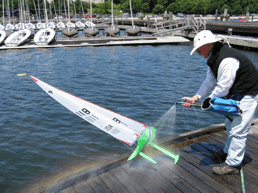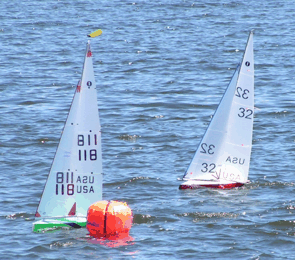 We sailed a windward-leeward course in three heats. This is an A heat at the end of the second beat, and the photo gives an idea of the distances involved. The bridge over the Thames river of the Interstate 95 is in the background.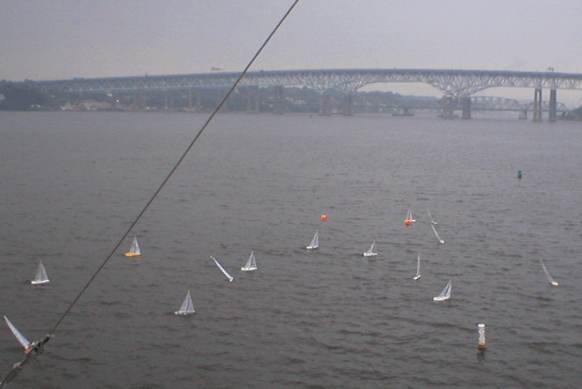 Graham Bantock had a prototype arrangement for his arm winch. Not an arm, actually, but a wheel. It pulls a double block, through which the jib and main sheets are routed. The double block in turn is pulled through a single block. Note that the wheel is offset somewhat, giving a differential sheeting radius between close-hauled and on the run.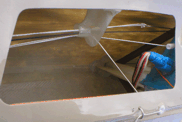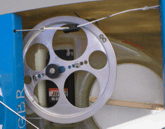 Graham Bantock won the event, moving into top place from race 2, and never looking back. Richard Silverman, Ken Binks, and Tony Gonsalves were fighting for second place right from the start, and their final positions, this order, were only decided on the last race.
Janot Lemaire, #92, sailed his marvellously decorated Italiko.

After the event, the four English-speaking competitors sampled the Pizza parlour of New London. (Just kiddin' folks, just kiddin'.) Graham Bantock sits behind Mike French, who sits behind Ken Binks. I'm opposite Ken.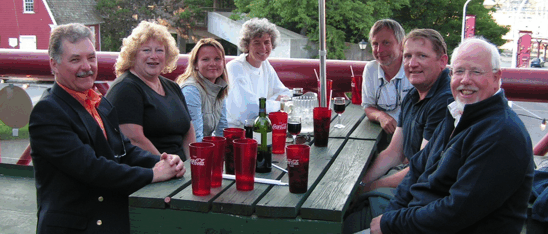 Graham and I visited Newport and took in the model yacht exhibition at the museum. An outstanding display, assembled by the vintage group led by Earl Boebert, well worth a visit. The picture shows just one section of the exhibition.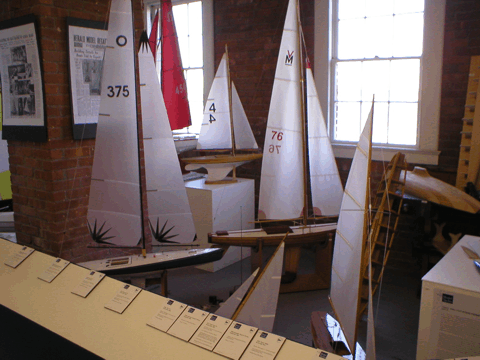 Finally, before returning home, I stayed in Manhattan and sailed at Central Park, courtesy of John Elmaleh and the friendly reception of the club.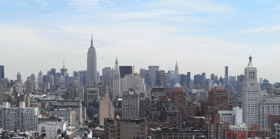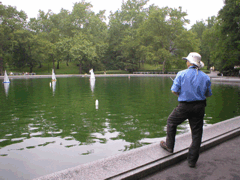 2005-12-18